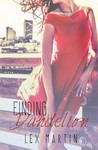 Finding Dandelion
by
Lex Martin
My rating:
4 of 5 stars
4.5 Happy Dani Stars
Lex Martini is slowly making her way on my favorite author list. If you are looking for a sweet, fast and easy read, then Finding Dandelion is for you.
Summary
Jax and Dani are completely opposites. Jax is rich and a player. He doesn't answer to anyone but himself. Dani just got out of a relationship and created a bucket list of things to do to get her back on track. She got a tattoo and now she wants a one night stand.
Jax and Dani meet. It was meant to be a one night thing, but somehow their social circles collide.
Dani
I like Dani. I wanted to be her friend. I also have this thing with heroines and lists. Call me crazy, but I'm obsessed with a bucket list. It wasn't the focal point of the read, but it was cute. I liked how her ex made her rethink her love life. I also loved she wanted a one night stand, even though the idea of it makes her sick.
Jax
I have this thing with Heroes name Jax, let's just say I haven't been disappointed. Jax is the spoiled trust fund kid. We got a little glimpse of him in Finding Clementine and I have to say, he wasn't my favorite character, but after reading Finding Dandelion, you will love him. He's a player, but he's too sexy to not love.
Overall
Dani is very insecure with herself because of her ex. Jax and Dani meet a club and have a crazy make-out session. They are about to move to the next level, but get separated. Dani thinks Jax left her for another woman. It's a slight miscommunication, but it makes for such a great read! Because days later, Dani realizes Jax is Clementine's brother and Clementine is Dani's suitemate. Oh the drama.
Finding Dandelion is lighter than Finding Clementine, but the heroes are completely different. As much as I love Gavin, oh Jax, he will put you through the ringer. There's so much tension and push back on Dani's part, you will be rooting for them to get together!
Overall, it's a cute read and I was consumed from page one. If you like the series, you will not be disappointed.
REVIEW
|
AMAZON
AMAZON